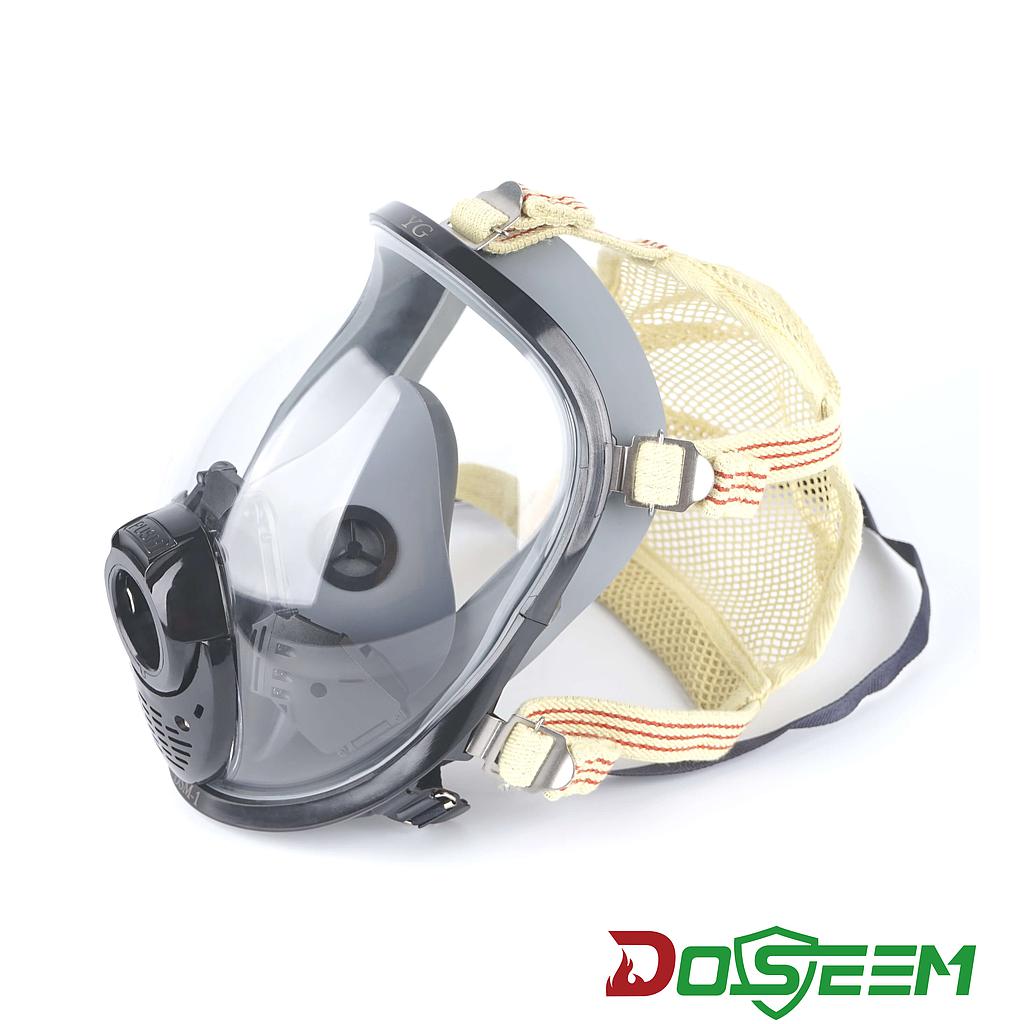 DOSEEM Full face mask DSM-1
---
Fullface mask DSM-1 is a positive-pressure mask that adopts a single-eye window, a double-layer annular seal, has characteristics of wide vision, good transparency.
---
US 30-day money-back guarantee
物流时间表
售后
Full Face Mask
Article number: 02001
Model: DSM-1
Introduction:
The full-face mask is a positive-pressure mask that adopts a single-eye window and a double-layer annular seal, and has the characteristics of wide vision and good transparency. The main frame of the face mask is made of silicone rubber material and has a small mouth nasal mask which is attached to the nose and mouth. It can enhance the full-face mask effective breathing space and reduce respiratory resistance. The face mask is made of polycarbonate, which is always clear, bright and fog-free during use. The head cover is connected with the fast clip with the tightening belt, and the tightening belt can be tightened to make the face mask double seal ring close to the wearer's face so as to ensure the safety of the user's breathing.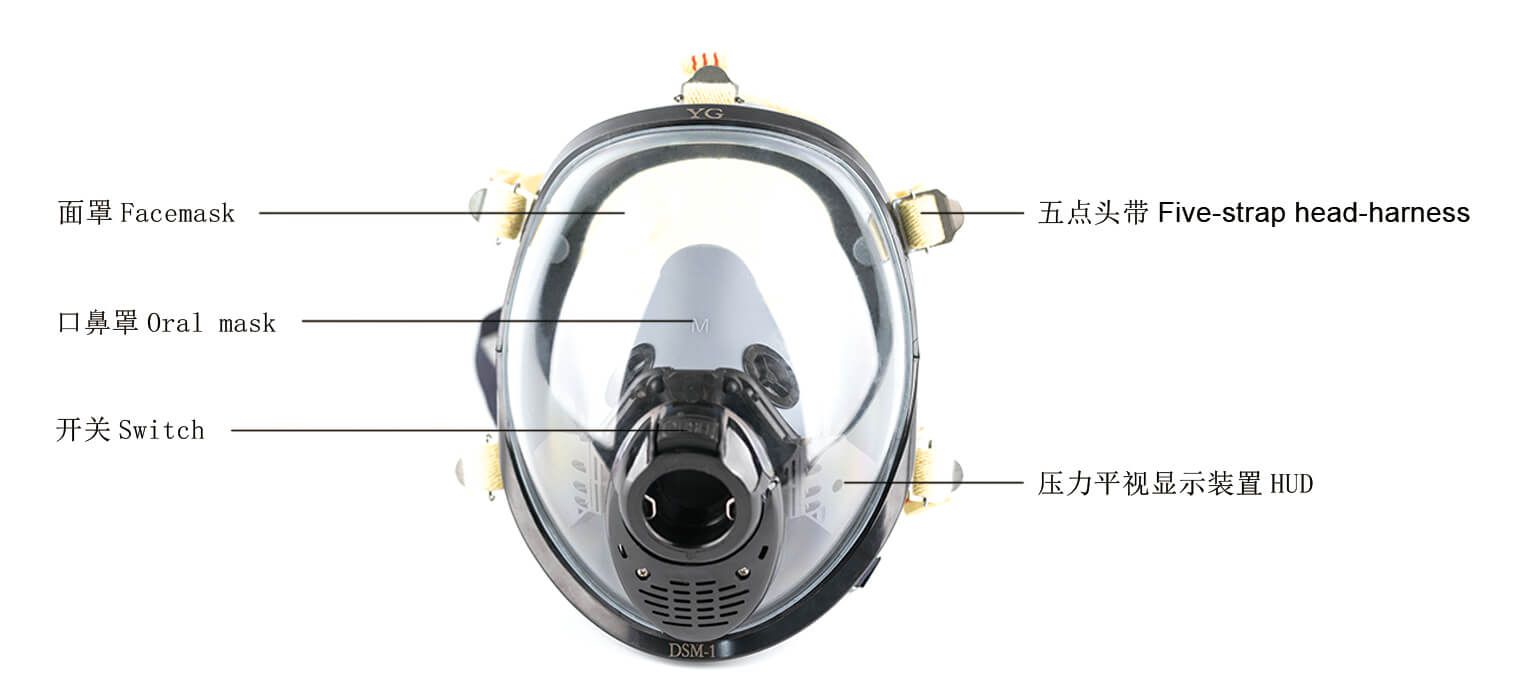 Safe, comfortable and adaptable to wear
The double seal frame design provides safety protection and safety wear, and is almost suitable for all face types. The nose and mouth mask is made of safe and non-toxic silicone/TPE elastomer, which is safe and comfortable, ensuring high wearing comfort even when used for a long time.
Large field of view, scratch-resistant mirror
The high-quality mirror with scratch-resistant coating is made of polycarbonate (PC), which is durable and scratch-resistant, ensuring a wide field of view without distortion.
Efficient ventilation system
Large valve exhalation valve for rapid discharge of damp air. Efficient ventilation system, independent internal nose and nose mask to prevent fogging of the mirror and ensure a good view.
Kevlar head net, five-strap head-harness
Easy to wear and remove quickly, without wrapping your hair. In addition, the headband is not only flame retardant, but also has a wide design to prevent pressure points on the head and increase comfort.
Clear speech communication
The integrated voice film maintains clear voice communication and communicates with zero barriers.
Anti smoke and poison gas
Considering that it is worn and used in smoke, poisonous gas, and fog environment, the screen is designed with anti-fog function.
Technical parameter
| | | | |
| --- | --- | --- | --- |
| Product model | DSM-1 | Total visual field retention | 81.7% |
| Panel material | Polycarbonate | Binocular visual field retention | 68.1% |
| Face silica gel / Oral Mask silica gel | Silica gel / Elastomer TPE | Lens transmittance | 96% |
| Head strap | Aramid /  Head net type | Mask CO2 content | 0.88% |
| Interface | Bayonet type | Mask leakage rate | ≤0.05% |
| Suction resistance | ≤500Pa | Mask leakage coefficient | 0.003% |
| Expiratory resistance (25 times/min) | ≤700Pa | Lower horizons | >35° |
| Expiratory resistance (40 times/min) | ≤1000Pa | Weight | 557g |
Notice
1. At present, web page supports payment in 11 currencies. Please choose the corresponding currency before placing the order.
2. Not only supports bank wire transfers, but also supports online payment. At present, credit cards (VISA, MASTER CARD), Paypal, Alipay, Google payment, apple payment and other payment methods have been opened. We have opened different ways of payment according to local laws.
3.The price displayed on the webpage is the unit price of the product, excluding the tax rates of all countries. When placing an order, the system will default to add the tax rate of the country to which it belongs. For example, when placing an order with a mainland customer, it will add a 16% VAT.
4. At present, the global inventory established by DOSEEM has been relatively perfect, but in some less developed countries and regions, we will arrange shipments by modern processing. We will gradually improve, please be patient!
5. Because of the variety of products, customers can search for keywords (such as internal bar code, product model, product name) in the search box when ordering.
6. In order to prevent you from buying fake and inferior products, please place an order directly on our official website or ask an agent or distributor for purchase. At present, the company uses two-dimensional code anti-counterfeiting. After scanning the code, it can get a random bonus as a reward.