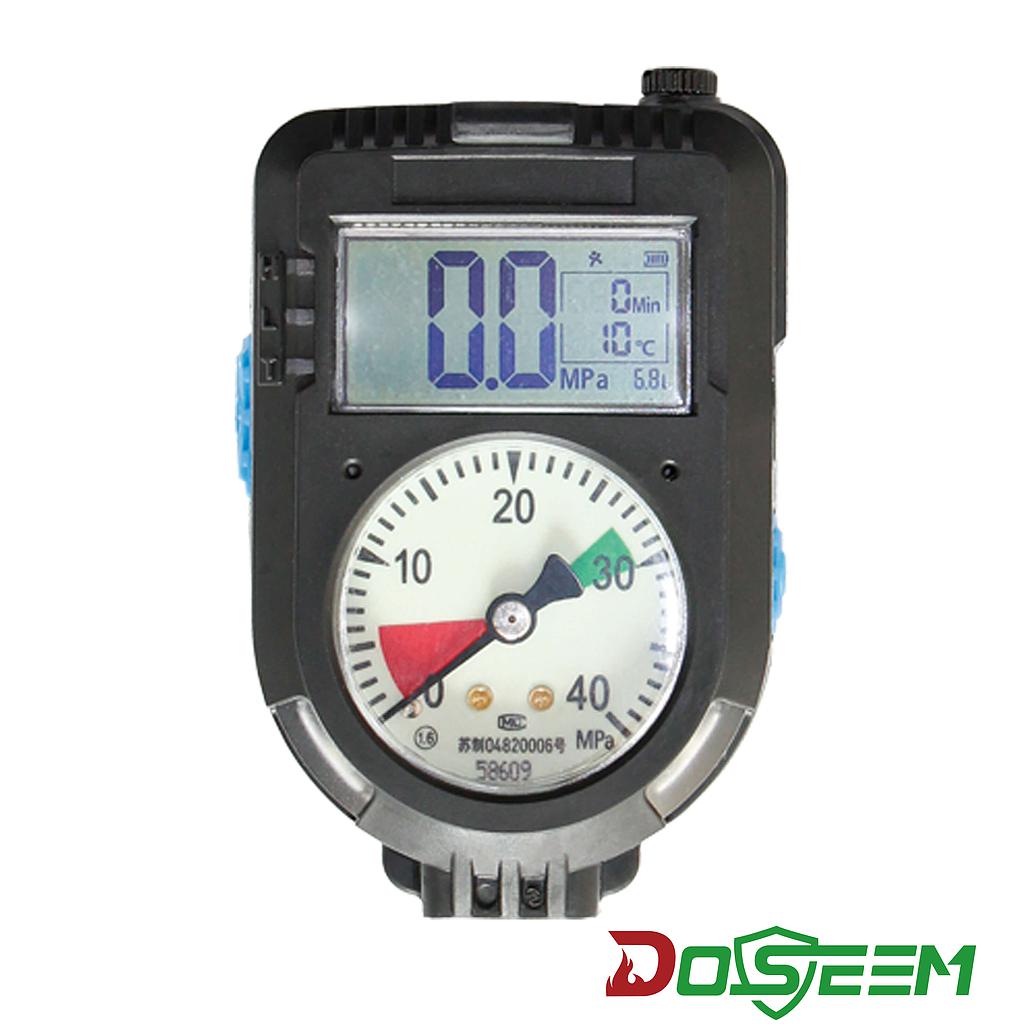 DOSEEM Electronic pressure gauge DSFSB-1
---
Both the pointer and the screen of the electronic pressure gauge (DSFSB-) can show the cylinder pressure.
---
US 30-day money-back guarantee
物流时间表
售后
DOSEEM Electronic pressure gauge
Article number: 02061
Type: DSFSB-1
Introduction:
Both the pointer and the screen of the electronic pressure gauge can show the cylinder pressure. At the same time, the data is transmitted to the HUD via Bluetooth to light up. Effectively avoid delaying the rescue time by looking down at the pressure gauge and affecting attention.
LED display
Electronic pressure gauge uses a high-brightness LED light source, display cylinder pressure, and it is clear. Display automatically adapts to the ambient brightness, and the pressure information can be clearly displayed even under conditions of insufficient light or strong light.
Low pressure sound and light warning
In addition to the low pressure alarm of the positive pressure respirator, if the cylinder pressure reaches the low pressure alarm value, electronic pressure gauge will emit sound and light alarms at the same time. This provides additional warnings to the operator.
Information display is comprehensive
Electronic pressure gauge can display cylinder pressure, remaining air volume, available air volume available time, on-site ambient temperature, and the respirator information is clear at a glance.
Bluetooth pairing
Electronic pressure gauge and HUD are paired through Bluetooth to realize real-time data transmission, which is convenient and fast, and reduces cost and connection errors.
Long usage time
Electronic pressure gauge has a continuous working time of more than 10 hours. Battery replacement is simple and convenient without using tools.
Quadruple protection
Waterproof, dustproof, drop-proof, explosion-proof (explosion-proof grade: Ex ia IIC T4 Ga). It can adapt to complex working environments.
Electronic pressure gauge parameters
| | |
| --- | --- |
| Product name | Electronic pressure gauge |
| Model | DSFSB-1 |
| Explosion-proof grade | Ex ia IIC T4 Ga |
| Enclosure protection level | IP67 |
| Transmit power | 4mW |
| Pointer display table accuracy | Level 1.6 |
| Digital pressure display accuracy | Level 1.6 |
| Operating temperature | -30℃~60℃ |
| Size | 97mm*64mm*40mm |
| Weight | 200g |
| Continuous working time | >10h |
| Continuous alarm time | >2h |
| Theoretical standby time | 1 year |
| Working time at low voltage | >2h |
| Power supply battery | 2 Section on the 7th batteries (E92 AAA 1.5V) |
Notice
1. At present, web page supports payment in 11 currencies. Please choose the corresponding currency before placing the order.
2. Not only supports bank wire transfers, but also supports online payment. At present, credit cards (VISA, MASTER CARD), Paypal, Alipay, Google payment, apple payment and other payment methods have been opened. We have opened different ways of payment according to local laws.
3.The price displayed on the webpage is the unit price of the product, excluding the tax rates of all countries. When placing an order, the system will default to add the tax rate of the country to which it belongs. For example, when placing an order with a mainland customer, it will add a 16% VAT.
4. At present, the global inventory established by DOSEEM has been relatively perfect, but in some less developed countries and regions, we will arrange shipments by modern processing. We will gradually improve, please be patient!
5. Because of the variety of products, customers can search for keywords (such as internal bar code, product model, product name) in the search box when ordering.
6. In order to prevent you from buying fake and inferior products, please place an order directly on our official website or ask an agent or distributor for purchase. At present, the company uses two-dimensional code anti-counterfeiting. After scanning the code, it can get a random bonus as a reward.